Longplay is an iOS app for music lovers who enjoy listening to full albums but have a hard time finding them in their music library. It provides a beautiful view of the album artworks of the (near) complete albums in your music library with one-tap access to play them. It works well with Apple Music.
There's a variety of sorting options:
Orderliness: by artist, then by album
Addiction: by amount of time spent listening
Brightness: by the primary colour of the album artwork
Negligence: by the time it's been since you've last listened to the album, weighted by the rating
Recency: by date added
Stars: by the rating you've provided for each song
Tap an item to play (or pause). Long tap for additional options, such as playing in shuffled order or hiding an item.
It is compatible with iPhone, iPad and iPod Touch.
Coming soon for iOS 13. Join the beta now!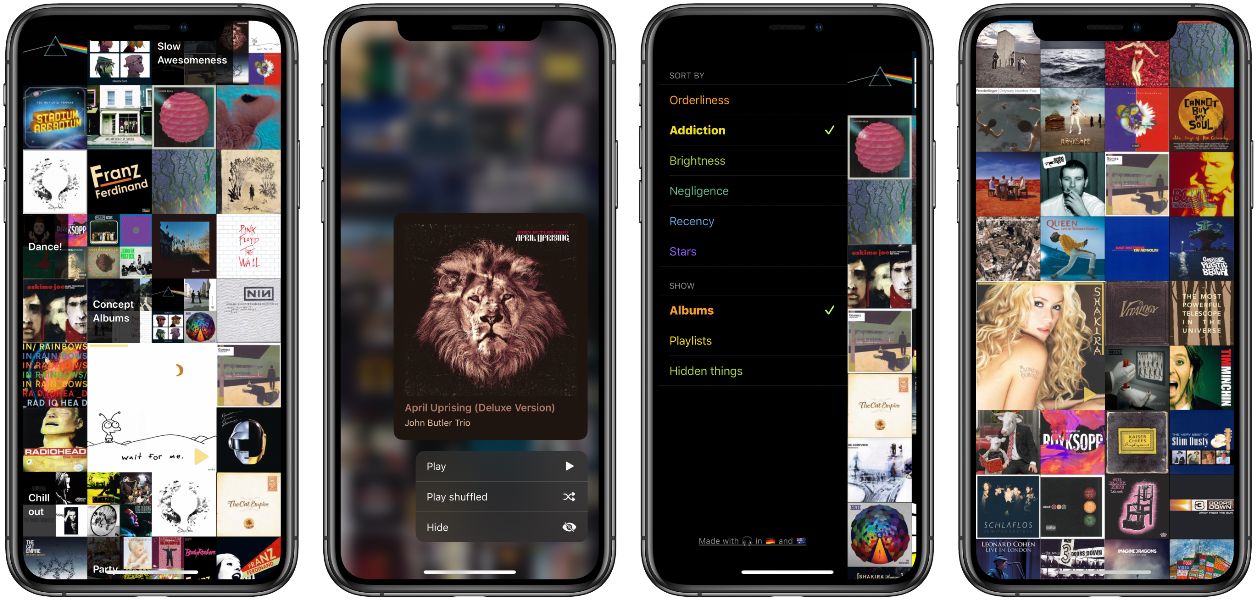 iPhone Screenshots
F.A.Q.
Which albums are displayed?
Longplay's purpose is to make listening to full albums easier, so it displays those albums for which you have (nearly) every song. This is determined by both the relative percentage and absolute number of songs you have for of that album.
Why are some albums greyed out?
If you use iTunes Match or Apple Music and you are not connected to a WiFi network, the albums which you don't have available locally will be greyed out. If you have a cellular connection and you allowed the Music app to download music over cellular, you will still be able to download and listen to that album though. However, mobile data charges might apply!
Note: There's an advanced settings in the Settings.app to always grey out albums that you don't have downloaded, even if you're on WiFi.
Can I hide albums that I don't have downloaded?
Yes, when you have albums that are greyed out, swipe to get to the side setting and then select "Show" > "Downloaded only".
How do I add missing album artwort?
You can add album artwork via iTunes on your computer via two ways:
Using Apple's catalogue by selecting "File" > "Library" > "Get Album Artwork".
Manually, by finding the artwork online, and then in iTunes by right-clicking the album, selecting "Get Info", navigating to the "Artwork" tab and then pressing "Add Artwork".
How do I rate albums?
Longplay uses the ratings for songs as you set them in iTunes and the Music app.
It's showing all my kids' albums / meditation / white noise albums and playlists! Can I hide those?
Sure, you can. Long tap on an item you want to hide then select "Hide". If you later want to show it again, swipe to the side albums list to the side, select "Show" > "Hidden things" and it'll re-appear. You can then make it visible again, by long tapping it and selecting "Unhide".
Does Longplay support Spotify?
No, support for Spotify is not provided. Longplay is a passion project of mine, and I don't use Spotify myself currently.
(If there's a keen iOS developer out there, who'd like to work with me on adding these, feel free to reach out to me.)
What are those playlists in the screenshots?
Enjoy:
I got another question!
You can reach out to me on micro.blog, twitter or by mail.